Nutrition and Cancer Care: Meet our Oncology Certified Dietitian, Karen Randall RD,CSO
April 8, 2022
Cancer treatment can have an adverse impact on a patient's overall nutritional status, both during and after treatment. Helping our patients integrate proper nutrition into their care is Karen Randall RD, CSO – Registered Dietitian and Board Certified Specialist in Oncology Nutrition. Consultations with Karen are a valuable service offered to our patients as an American Oncology Network practice. In this spotlight we discuss Karen's work and the role of an oncology certified dietitian on our cancer care team.
What's the difference between a dietitian and a nutritionist? 
The role of a dietitian is more regulated than that of a nutritionist.  In the US, there are certain licensure and certifications a dietitian has to earn to be able to work.  After earning a bachelor's degree, dietitians typically complete an internship at a health care facility, hospital or other organization.  Upon completion, students must pass a national exam before practicing as a Registered Dietitian.
Nutritionists typically do not have any professional training, and therefore should not be involved in the diagnosis or treatment of any nutrition problems.  There are many online certification programs to become a nutritionist, and most can be completed in 1 year or less.
What motivated you to become a dietitian specializing in Oncology nutrition? 
I grew up in Central Indiana, working in a family-owned restaurant. I've always had an interest in nutrition, cooking and working with people. I thought of pursuing nursing, but I faint at the sight of blood!! Being a dietitian seemed like a nice fit for my interests and I pursued that during my studies at Purdue University.
After my first child was born I took a part-time position in radiation oncology. I quickly learned to love working with oncology patients because they are so eager for nutrition information, and I was able to have consistent follow-up during their treatment journey. This inspired me to become the 6th registered dietitian to achieve the status of board certified specialist in oncology nutrition, in Indiana
How do patients get referred to your service? 
Most patients are referred to me by the oncologists and nurse practitioners, but patients may also self-refer. High risk diagnoses for nutrition deficits include: head & neck, esophageal, stomach, lung, pancreatic, and colorectal cancers. These patients are often automatically referred for a "dietitian consult" by staff. Patients are also referred if they are eating poorly and losing weight from the disease and/or treatments.  Once a patient is identified for a dietitian consult, a scheduler calls them to set up their initial consultation via tele-health.
The sooner a patient is seen, the better. It's far easier to slow down or prevent malnutrition than treat it once it's been diagnosed. I follow patients with high nutrition risk diagnosis and patients with weight loss and poor appetite every 2-3 weeks during treatment, but I'm available more frequently if needed.  Despite being in Indiana, I'm always a phone call or email away. I do follow some patients that continue to struggle with side effects once they have completed treatments – particularly those with feeding tubes. I work on helping these patients wean from their feeding tube.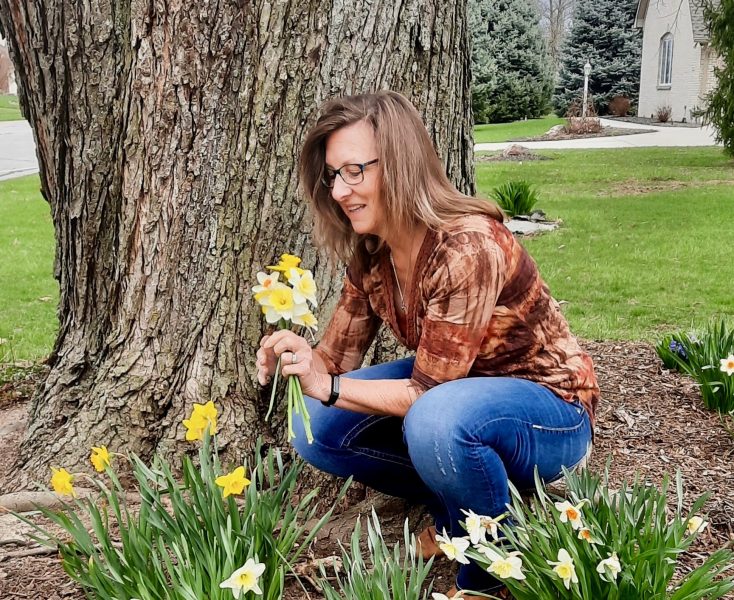 What are the most common questions you are asked? 
"How much protein do I need?" This is a topic I discuss with everyone during treatment because adequate protein is essential for cell recovery from chemo and/or radiation.  Plus, it helps preserve muscle mass which many cancer patients are at risk for losing, if they have significant weight losses.
"Should I stop eating sugar?" Many patients believe they should cut out all sugar because they've heard that 'sugar feeds cancer.'  The quick answer is all carbohydrates break down into simple sugar in our bodies and sugar/carbohydrates feed all our cells. However, the link between sugar and cancer is more indirect. Eating a lot of high sugar (or high fat) foods can contribute to excess calorie intake, leading to weight gain and excess body fat.  People that are overweight and obese have excess fat tissue which can store excessive amount of hormones, and they have excessive hormones in their blood which can promote the development of various cancers.
More and more we hear the phrase that "food is medicine." What are your thoughts on that?
Yes! I agree with that phrase. When we think about it, the main reason we eat is to nourish our bodies. Our bodies need protein, carbohydrates, fat, fiber, vitamins and minerals to function as best as possible. Eating a healthy diet of lean protein, low-fat dairy, whole grains, fruits, vegetables and healthy oils can decrease risk for various diseases.  Of course, food is not a cure for disease, but it can raise the odds in favor of decreasing various disease risks – including cancer.
What do you find most rewarding about your work?
I find it incredibly rewarding when a patient implements suggestions and has success with feeling stronger, improved symptom control, or reaching their weight goals.
The staff at OHLR  are always willing to help patients reach their nutrition needs. They always gladly offer to provide particular samples of oral nutrition supplements to patients I request. I'm so glad to be a part of the attentive, helpful and caring cancer team at OHLR.