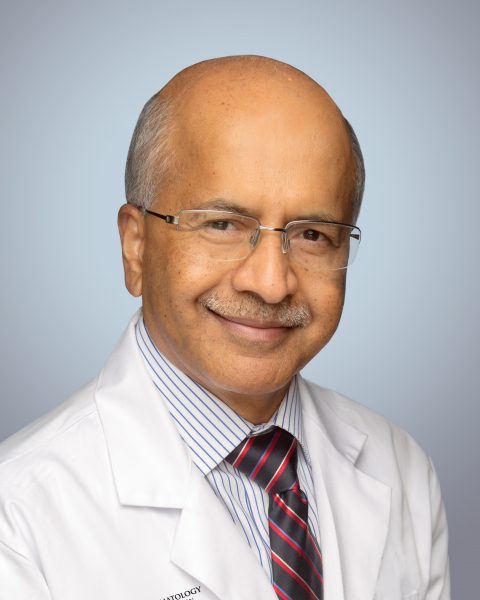 Dr. Rajendra has been practicing medical oncology and hematology in Loudoun County since 1991. He attended St. John's Medical College in Bangalore, India. After completing his internal medicine training at Grant Hospital in Chicago, Illinois, he subsequently completed his fellowship in medical oncology and hematology at Washington Hospital Center in Washington, D.C. During his training, he conducted research on breast cancer, lung cancer and ovarian cancer. Dr. Rajendra is Board certified in internal medicine and medical oncology. He founded Oncology/Hematology of Loudoun and Reston in 1997.
Dr. Rajendra's deep respect for oncology patients has inspired him to base his practice on a highly individualized approach wherein each patient's treatment is tailored to best address their medical and personal needs. He welcomes the involvement of patients and their families in treatment planning, thus ensuring that patients are given proper support during their care.
Dr. Rajendra has earned many accolades for his work. In 2014, he was the recipient of the Inspire Award from the Tigerlily Foundation, an organization dedicated to empowering and supporting young women with breast cancer. He has been selected as a Top Doctor in Washingtonian Magazine's annual survey of top physicians as chosen by their peers from 2008 – 2016; named one of the area's 'Super Doctors' by Key Professional Media, Inc, and honored as one of the Washington, D.C. area's 'Outstanding Physicians' by Washington Consumer Checkbook magazine. He has been recognized as a Staff Star at Inova Loudoun Hospital and served for many years on the Cancer Committee. The November 25, 2009, issue of Talk Loudoun featured him in the article 'Fighting Cancer: On Call With Dr. Rajendra.' Dr. Rajendra has twice been voted one of Loudoun County's favorite medical specialists in Leesburg Today's 'Best of Loudoun' poll.
Dr. Rajendra, a husband and father of three sons, enjoys jogging, reading and travel. He has been a part of the Loudoun community for over two decades.
Mar 4th, 2023
I worked for Dr's for 28 years and I knew Dr Rajendra because of that. When I got breast cancer I knew who I was going to see. This man is the smartest (and kindest) person I have ever meant. He saved my life a few times but I am happy to say I am almost 8 years out.
Jan 20th, 2023
Dr Rajendra and staff are the best in their field. He's very proffessional, kind, compassionate, patient and extremely knowledgeable. His staff members absolutely awesomr.
Jan 18th, 2023
Dr Rangappa Rajendra has been my oncologist for almost 10 years and I am so grateful for his excellent and compassionate care and his vast knowledge of his field. I have been and will continue to highly recommend Dr. Rajendra. Thank you!
Dec 3rd, 2022
He is a real gem. He is so knowledgeable and is always ready to go above and beyond to help. Staff is equally amazing, they are always ready to help and are cheerful.
Dec 3rd, 2022
Dr Rajendra and the staff are so caring and compassionate. Staff is always so polite and friendly. They help tremendously and are knowledgeable.